Extroverted counselors be like: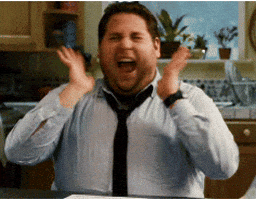 But introverted counselors? We're more like:
From the place where we are right
flowers will never grow
in the spring.
The place where we are right
is hard and trampled
like a yard,
but doubts and loves
dig up the world
like a mole, a plow.
Yehuda Amichai
"Do you want to have a personal relationship with Jesus Christ?"
For most of my life, a personal relationship with Jesus was the center of my faith. The Biblical story was summed up in a personal exchange of my sins for God's salvation. I'd never heard of "corporate" worship let alone collective guilt or confession. Social justice didn't seem to matter as long as I wasn't the one who was racist or going astray.
Today, my notion of a personal relationship with Jesus has been deconstructed, it lies like a thousand Lego pieces across the table of my spirituality. Embracing my role in the world beyond a one-to-one relationship with the Divine has been difficult. It's led me into tension: the tension of seeing systematic injustice as my problem; the tension of holding numerous theological traditions in balance; the tension of faith that is nuanced and debated because it is witnessed by more than my own eyes. I've found what I didn't know I wanted: faith that exists well beyond my personal status on the divine grade sheet.
But the pendulum has swung the other way.
My struggles with some of the problems that come from a heavy focus on one's personal relationship with God has resulted in me neglecting mine altogether. It's like I helped plan the prom but forgot to ask my SO to go with me. My rejection of an ego-centric faith has become a hall-pass for holding God at arms-length.
Take, for instance, confession. I've become rather comfortable with confessing my role in oppressive and systematic injustice. Which is good. The world needs more straight, white, men who point to their towers of privilege and declare that they're feats not of architecture brilliance but of oppression.
But I can (and do) hold such sin at arms-length. While corporate confession should involve personal grief, it's all-too-easy for me to bypass it. I confess the oppressive nature of my white privilege on my Facebook feed, close the computer and then go on with my evening. But confessing arrogance, gluttony, and excessive drinking? Those require that I shut up then pass-up on the second taco and margarita, even if its Tuesday. It requires energy and humility; it requires that rather than face confession as a "we" I face it as just a "me." It requires that I stand before God, alone, just me, waiting in the isolation of what I've done to hurt others, waiting for grace to intercede on my behalf; waiting because some fires we start together, but other times I'm the only one holding the match.
All of this feels like a drift into legalism and shame. And it goes back to the root of my frustrations with an isolated emphasis on the personal. I wish that half the time I'd spent as a teenager confessing lustful thoughts to my 'accountability partner' had gone toward advocating against the police brutality that took place in my hometown. I wish that I'd cared more about how gay kids in my high school were treated than whether or not I was 'saved.' I wish that the core teaching of Jesus dying for all my sins had been corrected prior to planting a cavity of shame deep within my own being.
But if I live in the regret of these errors, I'll only perpetuate others. You can't hike a trail backward, wishing you'd taken a different turn, without wandering off the path altogether.
I may vote for generous policies for the marginalized but how many vacation days do I spend in a soup kitchen?
I may call for racial reconciliation, but do I have the humility to develop deep enough relationships with people of color that my own racist tendencies might come to light?
Do I berate misogyny but value my own recognition in the workplace above that of others?
I may advocate for sexual minorities, but do I honestly wrestle with the dark corners of my sex life?
I don't believe that my calls for reform in the church are unfounded. But I've thrown out the baby with the bathwater while calling myself an advocate for adoption. Neglecting my personal relationship with God quickly leads me to a faith that is directionless at best, blindly hypocritical at worst.
Grace is tension; it demands that I acknowledge the darkness around me enough to know when I've been liberated from it. It demands that I live in the tension of personal culpability alongside corporate confession and systematic advocacy.
I want to live in that tension; Christ calls me to that tension. It's time to take two steps forward in terms of advocacy, but also find a way to take one step back, back to me and God, back to personal.