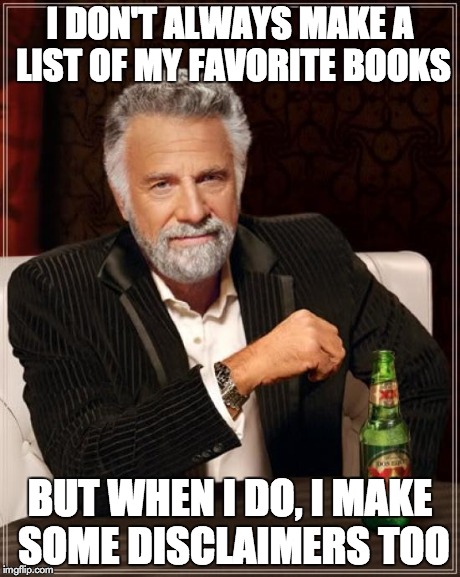 About a month ago, I was tagged by some friends to list my ten favorite books (or something along those lines). I can't remember too much from middle school, but I am pretty sure that if I don't respond to tags like this then my love life will be cursed forever (or something along those lines). Well, I'm happy to report that after a month of procrastination: a) my wife and I are doing fine and b) I've come up with a list of ten books that's been most influential in my life.
That said: the first disclaimer to note is that I've not included the Bible on my list. That's because the Bible is actually 66 books and so it'd blow the purpose of this exercise right outta the water. And ranking ANY one of those books above the rest could be interpreted as inferring that the entirety of the text isn't inerrant and holy.. and that's just a no-no for Evangelical seminarians.
So let it be known that yes, I love the Bible too.
The second disclaimer I ought to make is that because books are awesome and I studied English and ergo am bad enough at math to be excused for it, I miscounted and gave you my eleven most influential titles. Sorry not sorry; they're all worthy of being on this list.
Lastly, these books are in no particular order. I've got better things to do (such as, for example, write out a list of disclaimers for a list of books that no one other than me cares about) than actually rank them from 1-10.
Without further adieu, for those of you who care, here's a list of the books that have made me who I am today. You should buy all of them and read them. Because they're incredible.
The Brothers K; David James Duncan
A Walk In The Woods; Bill Bryson
Gilead; Marilynne Robinson
Small Wonder; Barbara Kingsolver
A Prayer Journal; Flannery O'Connor
Surprised by Hope; NT Wright
Dogmatics in Outline; Karl Barth
The Complete Calvin & Hobbes; Bill Watterson
The Winter of Our Discontent; Jonathan Steinbeck
Into the Wild; Jon Krakauer
Telling the Truth; Frederick Buechner
a
a
a